The Grape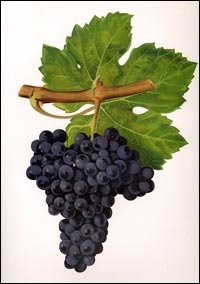 By the late 17th century, the grape was established in the vineyards on the Right Bank of Bordeaux, from which cuttings were taken to establish the varietal in the Loire Valley. This has led to two distinct wine styles: in Bordeaux wines from the Right Bank (Fronsac, St-Emilion and Pomerol), Cabernet Franc is used in a blend with Cabernet Sauvignon and Merlot. In the Loire Valley (Anjou, Bourgueil, Chinon, and Saumur-Champigny), Cabernet Franc produces single-varietal wines.
Worldwide, Cabernet Franc is now one of the twenty most widely-planted grape varietals. Plantings are found throughout Europe, in the New World, even China and Kazakhstan. In many regions, it is planted as a component of a Bordeaux-style blend, playing a supporting role to Cabernet Sauvignon and Merlot. In parts of northeast Italy, New Zealand, Long Island and California it is frequently vinted as a single varietal. In Canada, it is used to produce ice wines and in Washington state, it is used to produce rosé wines.
Interest in the grape started with California wine makers who wanted to replicate the Bordeaux blend. In the 1980s, heightened interest in Cabernet Franc lead to an increase in plantings that helped push the total acreage of Cabernet Franc in California to 3,400 acres.
In Santa Ynez Valley, the long east-west valley that stretches from the San Rafael mountains to the Pacific Ocean produces a range of vine-growing conditions that are perfect for Pinot Noir and Chardonnay to the west and equally fantastic for Bordeaux varietals such as Cabernet Franc to the east. Fog and clouds from the ocean roll up the valley to produce cool nights that keep the acidity in the grapes; the skies clear mid-morning to give the vines the sunlight and heat needed to ripen the grapes to perfection. The eastern part of Santa Ynez Valley is so distinct that it has been awarded its own Happy Canyon of Santa Barbara appellation, with two more AVAs in the works.
Specific micro-climates within the larger Santa Barbara County have encouraged vineyards to plant Cabernet Franc - examples are Tinaquac Vineyard in Santa Maria and Alisos Canyon Vineyard.
In northern California, Cabernet Franc finds a welcome home in Sonoma County, where, within the broad east-west expanse bounded by the moderating Pacific Ocean and a range of low mountains, there is a land of unlimited potential for grape growing and wine making.
Cabernet Franc makes a bright pale red wine and contributes finesse and a peppery perfume to blends with more robust grapes. Depending on growing region and style of wine, additional aromas can include tobacco, raspberry, and cassis, sometimes even violets.
Cabernet Franc in the Press
The Sad Plight of Cabernet Franc - an Underrated Grape in Slate
Francly Speaking in TableWine.com
Project Cabernet Franc - by WineDoctor
Variety Focus: Cabernet Franc - by The Sedimentalist